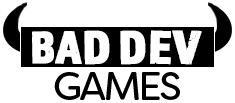 Bad Dev Games is an independent French video game development studio. Our team consists of an experienced graphic designer and a developer with 20 years of experience.
We are multicashed and know how to tackle the story, technical, artistic and marketing issues related to our industry.
We are passionate about our job and do our best to develop fun and interesting games.
We also have a network of qualified and available partners.